This site does not offer a hypertext of A Vision itself and does not aim to offer a substitute for Yeats's A Vision; this is not only because of copyright reasons, but because the 'book of A Vision' is an artefact in itself (see The Book of Yeats's Vision by Hazard Adams). This link gives some notes about buying a copy over the internet .

Volume 14 of the Collected Edition of the work of W. B. Yeats, A Vision: The Revised 1937 Edition, edited by Margaret Mills Harper and Catherine E. Paul, came out in May 2015, still only in hardback (list price $60, but cheaper in many places).

Volume 13 of the Collected Edition of the Works of W. B. Yeats A Vision A (1925), also edited by Margaret Mills Harper and Catherine E. Paul came out in 2008, and is now available in paperback and e-book. Further details are available at: Scribner's/Simon and Schuster's page where the price is listed as $26.99 and the e-book is $14.99. (See my review of Volume 13.)

Go to Getting a copy of A Vision.

The pages here attempt to offer a clear and helpful guide to the ideas of A Vision and, in doing so, they sometimes extend and develop the material beyond what is explicitly contained in A Vision; some of the diagrams in particular represent significantly different reformulations of those created by the Yeatses.
The site does not aim to present a sustained argument either, although much of the material is associated with a doctoral thesis I presented at Oxford University; do contact me if you are interested in an electronic copy of the thesis.
---
A Reader's Guide to Yeats's 'A Vision' is currently in preparation.

A new introduction to the context and system of A Vision — due out at the beginning of 2019.

A READER'S GUIDE TO YEATS'S A VISION
CONTENTS
Background
1 Overview: The Book of A Vision
2 Genesis: Making and Remaking A Vision
3 Background: Antecedents and Assumptions
Foundations
4 Presentation: Gyres and Geometry
5 Spirits: Determinism and Free Will
6 Being: Human and Divine
Structure
7 The Faculties: Action and Pursuit
8 The Principles: Reality and Value
9 The Daimon: Opposition and Essence
10 The Divine: One and Many
Process
11 The Circles of Life: Wheels and Rebirth
12 The Twenty-Eight Incarnations: Lives and Phases
13 After Life: Understanding and Preparation
14 History: Cycles and Influx
Epilog
15 Reframing A Vision
Appendix: People in Phases
The cover art is by Jaff Seijas.
Clemson and Liverpool University Presses: A Reader's Guide to Yeats's 'A Vision', by Neil Mann.
With 39 diagrams. An associated glossary of terms and a bibliography are available here.
Yeats's "A Vision": Explications and Contexts is available for purchase and free download: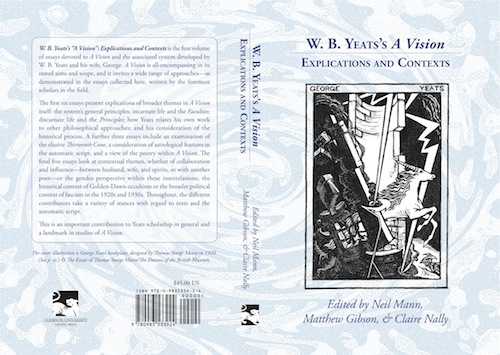 The first ever volume of essays devoted to aspects of A Vision has been written by a range of scholars who examine a variety of themes and approaches, edited by Matthew Gibson, Claire Nally and me. It is published by the Clemson University Press in South Carolina, under the aegis of the distinguished Yeats scholar Wayne K. Chapman, who has contributed to the volume as well. Apart from work by the editors and Professor Chapman, it also includes essays by Margaret Mills Harper, Catherine E. Paul, Nick Serra, Colin McDowell, Janis Haswell, Rory Ryan, Charles Armstrong, Matthew DeForrest and Graham Dampier. The book is published in both electronic and printed form. Check Clemson University Press's site for the title, where the electronic version is available for free download (here) and the paper version is available to order for $45 (+P&P). It is also accessible online via Liverpool Scholarhip Online and University Press Scholarship Online (simplest to search on "Yeats" and "Vision"; or click this direct link functional April 2016), though this is by subscription or through a library.

---
Though not focused specifically on A Vision like the previous volume, this book has much to offer those interested in Yeats's thought more broadly: most of the essays touch of matters of relevance to A Vision or contain sections on it, while two essays deal with aspects of history in A Vision.
Contents
Wayne K. Chapman
"Something Intended, Complete": Major Work on Yeats Past, Present, and Yet to Come
Katherine Ebury
Ghost, Medium, Criminal, Genius: Lombrosian Types in Yeats's Art and Philosophy
Charles I. Armstrong
"Born Anew": W. B. YeatsŐs "Eastern" Turn in the 1930s
Neil Mann
W. B. Yeats, Dream, Vision, and the Dead
Matthew Gibson
Yeats, the Great Year, and Pierre Duhem
Graham A. Dampier
The Morphological Interaction of the Four Faculties in the Historical System of W. B. Yeats's A Vision
Colin McDowell
Yeats and Abstraction: From Berkeley to Zen
Appendix I (Chapman)
Annotation in the Writings of Walter Savage Landor in the Yeatses' Library
Appendix II (Gibson)
Yeats's notes on Leo Frobenius's The Voice of Africa (1913)
---
The Life and Works of W. B. Yeats
The National Library of Ireland, which, through the generosity of the Yeats family, holds the largest collection of Yeats's papers and drafts, has mounted an excellent exhibition about Yeats, in all his aspects, which can be viewed on-line as a virtual tour of the physical exhibition in Dublin. It includes a fair portion on Yeats's esoteric interests, including A Vision. The exhibition opened on 25 May 2006 and is due to run for three years. (I have to acknowledge bias, from being involved with it, but it genuinely is very good.) See the Links page for further information and resources.
The font for the text of this site is not fixed, to enable you to read it in whatever typeface you prefer. Also, what suits the screen may not suit the printed page.
If you want to change the font from what you are currently seeing, you can do this through your browser (such as Explorer, Mozilla, Netscape, Firefox, Opera or Safari) or through your own computer's Internet Settings on the Control Panel. Click here for examples.
Those using Firefox as browser may find some of the characters represented by little question-marks in black diamond squares, and can change viewing settings—click here for details.